Families of Changi
The excitement for all Changi Airport travelers start way before your trip. iShopChangi is Changi Airport Group (CAG) new online shopping portal where all travelers can enjoy Tax & Duty-free shopping experience at your fingertips. It's the comfort of shopping online at home, without the worry of missing your flight and collect before you fly.
And this is what I bought! Calvin Klein Fragrance! For me!
From 31 May to 29 Jun 2014, discover the 'World Next Door' at Changi Airport. Showcasing Indonesia's famous attractions and cultural wonders, visitors can experience the mesmerizing beauty of many Indonesia's destinations. From grand temples to puppet shows, ready yourself for a sensational adventure through a volcanic cave and even the grand Borobudur Temple – a 9th century Mahayana Buddhist Temple in Central Java and a UNESCO world heritage site.
Operating hours are from 12pm – 11pm. Venue is Terminal 3, Level 2, Departure Check-in Row 11.
With more than 17,500 islands in the country, Indonesia is the world's largest island country in the world – the ultimate surfer's paradise. Hence, come down to the exhibition and 'conquer' the waves in Surfing Challenge.
It's not all for the little ones, while they have their fun, parents can have their share by indulging in a satisfying massage. Take note that this traditional massage is only available on the weekends from 4pm – 8pm. (redemption timing from 3pm – 7pm only)
For more information, please click on the link http://www.changiairport.com/at-changi/events-and-promotions/indonesia-event
We had an unique chance to explore the Changi in Transit. We were totally awed by the wide array of activities and facilities available inside the transit area (T1 – T3), for relaxation, fun and leisure.
We had lunch at Spageddies (located at Terminal 3 transit), which brought back so much memories for wife and me, cos this restaurant was one of the first place we went for dinner during our dating years. The food is still as nice as before, and now we are back with our 2 girls. Nice!
All around the transit area, there are complimentary internet access readily available for use.
The girls were given a rare chance to surf the net, and they absorb the chance like sponge.
Walkways like this are so suitable for tired travelers to just sit and take a rest. Charging stations are conveniently arranged for our mobile need.
What about a relaxing foot reflexology?
Watch a movie while you wait for your flight.
Baby care facilities for the nursing mothers.
Leg massage chairs are all around to provide free service. Thumbs up from Jayne.
Crossing over to T1, you will find an unique rooftop swimming pool that overlooks the runway, perfect for a refreshing dip and sunbathing. It's FOC for the Transit Hotel guests, but for a payment of S$13.91, you can enjoy the pool too.
A trivia fact for travelers on SQ flight, you can actually check-in up to 48 hours earlier, just to enjoy the transit facilities. I think that should be enough time to cover every inch in all the 3 terminals. But if you are just any average traveler like myself, with about 3-5 hours of free time in the transit areas, then I would recommend you to visit the five thematic gardens.
Cactus Garden (Terminal 1)
Carries over 40 different species of cacti and succulents from Africa and the Americas. (photo credit to www.panoramio.com)
Enchanted Garden (Terminal 2)
An interactive experience, the garden "magically" comes to life with sight and sound, captivating visitors as they weave through the garden.
Orchid Garden & Koi Pond (Terminal 2)
Standing out in abundance of colors, this garden exhibits rare orchids and their hybrids. (photo credit to departuresaz.com)
Sunflower Garden (Terminal 2)
The 500 bright yellow flowers never fail to bring cheer to the weary travelers.
Butterfly Garden (Terminal 3)
Home to over one thousand butterflies, this garden is the all-time favorite for kids and adults alike.
Yes, the butterflies are so friendly, they will stop by to say hello.
The secret is to dip your fingers into one of the pollen-water and place it near a butterfly, they will slowly pick up the scent and fly to you.
Before you fly off for your holidays, remember to drop by the cool feature in Terminal 1 – The Social Tree. This is a new attraction that blends avant-garde design with interactive technology, allowing travelers to share their photo and video memories instantly and to retrieve them on subsequent visits to the airport. We were told the memories will be kept for 100 years. Wow!
Just besides The Social Tree, you won't miss out the famous fairy-tale story – Three Little Pigs.
Children playgrounds are all over the different terminals to entertain the kids while the adults have a nice meal or massage.
Just before you think all the fun is in the transit area, you are wrong. The fun in the public areas are equally interesting and the girls spent hours exploring them during our recent staycation.
Try out the tallest slide in Singapore – Slide @ T3. Standing at a height of 12 metres high or four storeys tall, kids will just love the excitement of sliding down the long tube. For every S$10 spent at Changi Airport in a single receipt, members of the public can redeem one ride at the 12m slide.
The Aviation Gallery at Terminal 3 provides aviation enthusiasts with interesting insights into Changi's ground operations and the eventful history of aviation in Singapore.
Operating hours from 6am to 12 midnight. Admission is free. (Image credit to www.airliners.net)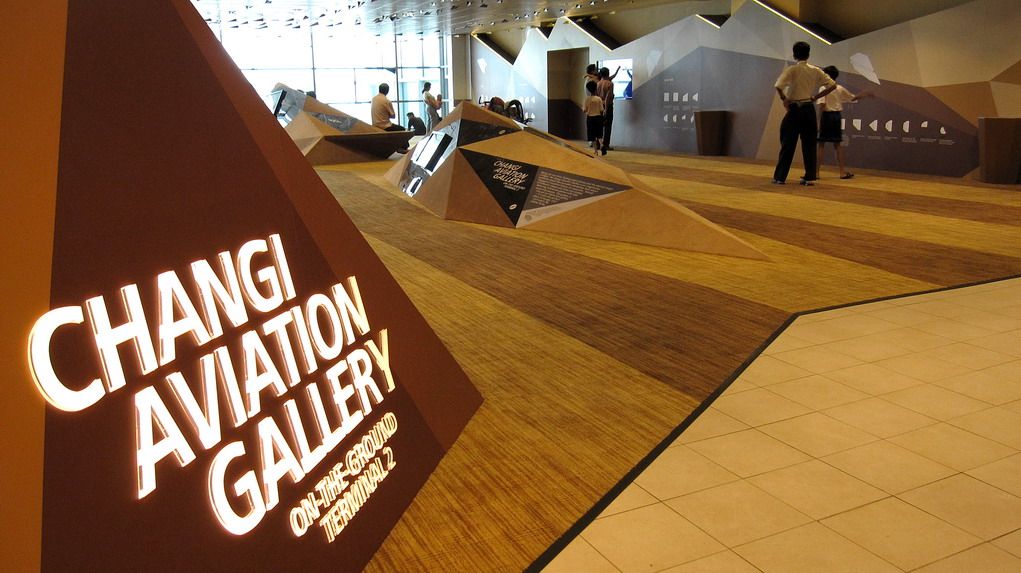 Look out for this gallery space just outside Crowne Plaza Changi Airport, where the display will be changed frequently to offer the public a photo chance.
Children playground is not exclusive to the travelers. Located at Terminal 1, Level 3, Viewing Mall. The Canopy Playground is free forest-themed play structures that are designed to be safe and fun. Children aged 18 months to 12 years old, can choose to bounce on the trampoline or slide down one of the tunnel slides while parents can take a break and do some plane spotting.
Last but not the least, enjoy the various art installations around all the three terminals. Especially this new super cool installation at the Departure Hall of Terminal 1. Specially commissioned and a first in an airport global, Kinetic Rain consists of 1,216 bronze droplets, transforming elegantly into 16 different shapes and patterns. Some of the more recognisable shapes include an aeroplane, hot air balloon and even a kite.
Check out this YouTube link!
Thanks to Changi Airport Group's hosting, we had a wonderful 3D2N at Singapore's Changi Airport.
Congratulations to Changi Airport for the second year in a row voted as the World's Best Airport by air travelers at this year's Skytrax World Airport Awards.