If you are wondering what is WAG, then most likely you are not a football fan. So let me take this opportunity to introduce to you this media term or acronym used to refer to the Wives And Girlfriends of high-profile sportsmen. The term WAG was first used by the British tabloid press to refer to the wives and girlfriends of high-profile footballers, originally the England national football team. And needless to say, one of the pioneer of the WAGs is Victoria Beckham, wife of then England captain David Beckham.
But let's not dwell on the past. Let's look at some of the WAGs of this year's World Cup stars, and decide who will be your Top 5 choice!
My top five are No. 4, 5, 8, 9 & 10.
1. Skakira (Gerard Pique, Spain)
Shakira is a Colombian singer-writer, dancer, record producer, choreographer, and model. A couple since 2010, the singer actually revealed recently that he's not too keen on her having male co-stars in her music videos. Talking about jealous boyfriends..
2. Irina Shayk (Cristiano Ronaldo, Portugal)
Irina is a Russian model known for her appearances in the Sports Illustrated Swimsuit Issue. Reported to be dating since 2010, she once revealed that she wasn't such a fan of his sport. "I'm not a fan of soccer, for sure not." I guess not everyone is a CR fan..
3. Bruna Marquezine (Neymar, Brazil)
Marquezine is a Brazilian actress who has starred in many Brazilian TV shows and short-films. According to the media, this couple are in an on-off relationship.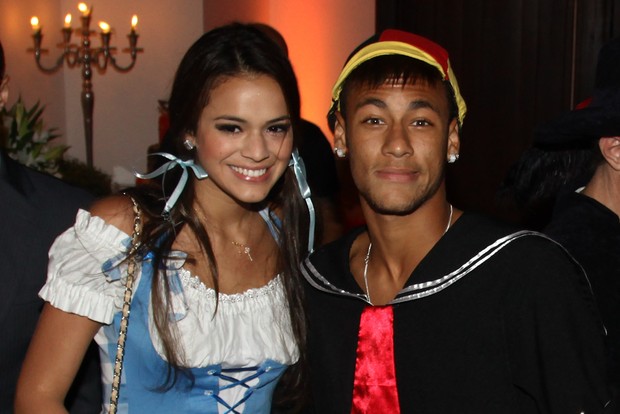 4. Fanny Neguesha (Mario Balotelli, Italy)
Fanny is a model, dancer and actress. Their relationship became official in Dec 2012, and just before the World Cup, Mario Balotelli proposed to her. He got the girl but lost the cup..
5. Antonella Roccuzzo (Lionel Messi, Argentina)
Antonella Roccuzzo is known for her charming beauty and the engagement to her childhood sweetheart. She is also a model by profession. The couple had their first child together in 2012, whom they named Thiago. Messi is truly the best example in football scene..
6. Daniella Semaan (Cesc Fabregas, Spain)
Danielle is a Lebanese model who is infamous for her messy divorce after her ex-husband found her photo with the footballer in the local newspaper. The couple are now married with a daughter together. She is 13 years Cese's senior. Looks like not only the footballers, but the WAG can be quite a controversial figure..
7. Margaret Natsuki (Shinji Kagawa, Japan)
Margaret is a Canadian-Japanese model and TV presenter. The couple met and got together after an interview.
8. Michela Quattrociocche (Alberto Aquilani, Italy)
Michela is an Italian film actress. Married for 2 years and pregnant again with their second child, the couple has quite been the model pair for many.
9. Melissa Satta (Kevin Prince Boateng, Ghana)
Melissa is an American-born, Italy-based TV presenter and also a communication expert. The pair was engaged in July 2012.
10. Amra Silajdzic (Edin Dzeko, Bosnia and Herzegovina)
Amra Silajdzic is a model and actress, also a mother to her 8-years old daughter, Sofia. In 2011, she became the first Ambassador for Bosana Foundation, a nonprofit with a mission to improve livelihoods for the marginalized population of Bosnia and Herzegovina.
Again, it's time for some contest giveaways! Complete the simple sentence in pink below, post in on this blog or my Facebook post to win.
Contest 2: What Keeps Me Going (30 June to 6 July)
"What keeps me raring to go is…"
Complete the sentence in the comments section below or on my Facebook post and stand to win a pack of BRAND'S® Essence of Chicken, a pack of BRAND'S® InnerShine® Marine Collagen Essence Strip, and a $50 Takashimaya Voucher!
Increase your chance of winning by incorporating BRAND'S® Essence of Chicken into your response!
Find out more about getting your GAME ON at http://www.brandsgameon.com.sg!
To participate:
1. Contest duration: 1 week, starting 30 June (Monday) to 6 July (Sunday).
2. TWO winners will be announced on the Isaiah's platform(s) within 3 days after closing of contest.
3. Winning entries are selected by the blogger. Priority is given to entries with BRAND'S® Essence of Chicken, and entries that have shown wit/humour.